Taipei 101
Location:
Xinyi District, Taipei, Taiwan.
Project Profile:
Height 508 m
Floors
Main Tower 101
Podium 6
Basement 5
Main Usage
Main Tower Office (7F – 84F)
Mech. Level (Every 8F)
Podium Shopping Mall (B1F – 5F)
Basement Parking (B2F – B5F)
61 elevators
Cost = 1.758 billion dollars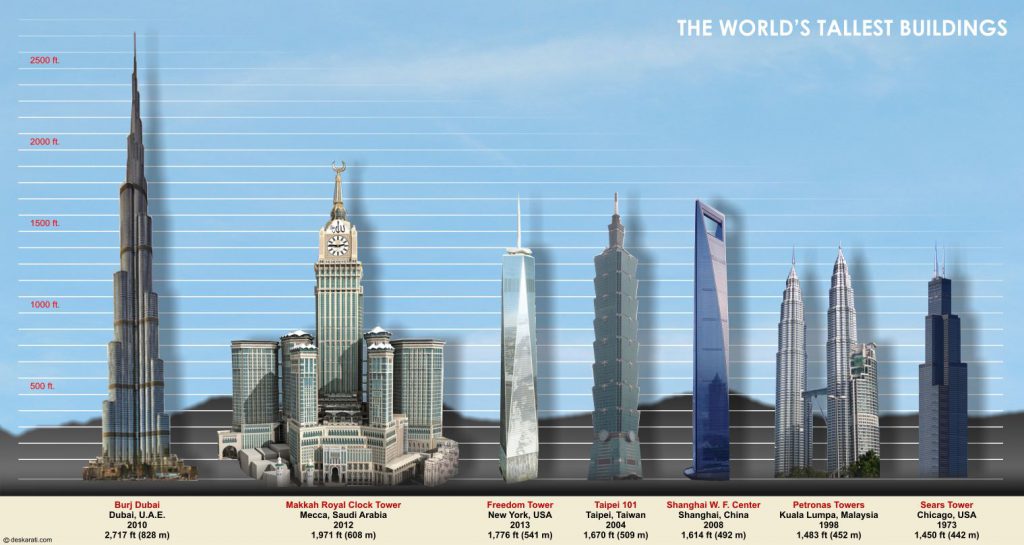 Rank of Taipei 101 among other buildings
Structural Design:
Taipei 101 was designed as a mega structural system to withstand gravity and lateral loads including typhoon winds and earthquakes.

Elevation, Section and Plan
The design achieves both strength and flexibility for the tower through the use of high-performance steel construction. Thirty- columns support Taipei 101 including eight "mega-columns" packed with 69 MPa concrete. every eight floors, outrigger trusses connect the columns in the building's core to those on the exterior

Mega-column
Within the core, sixteen columns are located at the crossing points of four lines of bracing in each direction. The columns are box sections constructed of steel plates and filled with concrete for added strength as well as stiffness at the 62nd floor and below.

Distribution of columns
The foundation is reinforced by 380 piles driven 80 m into the ground, extending as far as 30 m into the bedrock, making it one of the most stable buildings ever constructed.

Foundation plan

Piles
A 660 tonnes steel pendulum serves as a tuned mass damper, suspended from the 92nd to the 87th floor. The pendulum consists of 41 circular steel plates (125 mm high), being welded together to form the largest damper(5.5 m diameter) in the world. The damper absorbs vibrations due to earthquakes and winds.

Tuned mass damper location

Tuned mass damper