What is ASTM A36?
In the industry terminology, the term "ASTM A36" refers to the hot-rolled mild steel (low-carbon). A36 is known for its strength and flexibility, ranking this type of steel as one of the most popular type for use in construction and other industries.
Also, ASTM A36 refers to a standard developed by the American Society for Testing and Materials that is called "Standard Specification for Carbon Structural Steel."
Let us look at the purpose of ASTM A36.
Purpose of ASTM A36
The aim of ASTM A36 standard specs is to provide details in the properties and characteristics of ASTM A36 steel. It covers carbon steel shapes, plates, and bars of structural quality for use in riveted, bolted, or welded construction of bridges and buildings, and for general structural applications.
Chemical Composition of A36 Steel
A36 steel is made of multiple chemical elements. It includes the following elements with the specified amounts shown in the table:
| | |
| --- | --- |
| Element | Percentage in composition (%) |
| Iron (Fe) | 98 |
| Manganese (Mn) | 1.03 |
| Carbon (C | 0.25 – 0.29 |
| Copper (Cu) | 0.2 |
| Phosphorus (P) | 0.04 |
| Silicon (Si) | 0.28 |
| Sulfur (S) | 0.05 |
Now let us look at the mechanical properties of Steel A36
Mechanical Properties of ASTM A36 Steel
Mechanical properties are used to help classify and identify material. The most common properties dealt with in
construction
materials are
strength, modulus of elasticity and Poisson's ratio.
The mechanical properties of ASTM A36 include:
| | |
| --- | --- |
| Property | Value |
| Yield tensile strength | > 250 MPa |
| Ultimate tensile strength | between 400 and 550 MPa |
| Modulus of Elasticity (Young Modulus) | 200 GPa |
| Bulk modulus | 140 GPa |
| Poisson's ratio | 0.26 |
| Shear Modulus | 79.3 MPa |
The following tables shows the chemical and mechanical requirements for steel A36 as per the ASTM A36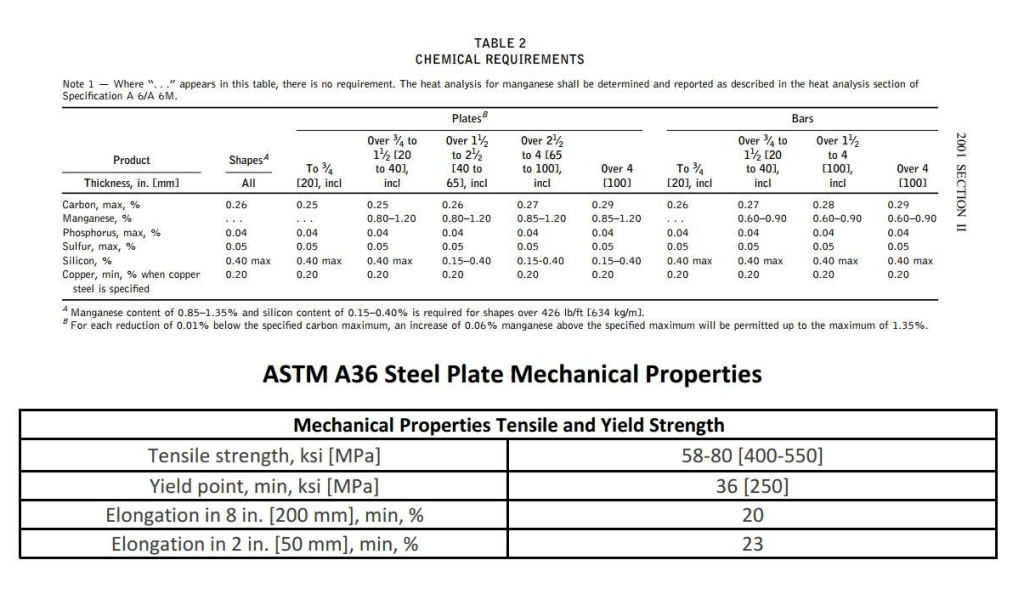 Advantages of Steel ASTM A36
Suitable for machining and welding
This steel plate has a machinability rate of around 72%, and its typical surface cutting feed is 120 feet per minute. This ASTM steel plate is simple to weld and can be done using a variety of welding techniques. The welds and joints that are produced are of the highest calibre possible. In terms of heating treatment, this steel plate may be perfectly heated using any common carburizing and hardening techniques for AISI 1018 steel.
Methods of heat treatment for A36 steel
The normalization process for A36 steel takes place between 899 and 954 degrees Celsius. The annealing process takes place between 843 and 871 degrees Celsius. The stress-relieving process takes place between 677 and 927 degrees Celsius. The carburizing process takes place between 899 and 927 degrees Celsius. When hardness and strength are the intended primary qualities of a design, hardening technique is strongly recommended. Following the production process, normalization treatment is applied as the last step.
Because of the characteristics of this steel , it may deform steadily when the tension is raised over its yield strength, preserving the structural integrity of bridges, buildings, and other projects long enough for occupants to escape without danger before any collapse occurs. This steel has a very high permissible bending stress of 150 MPa in addition to a very strong yield strength of 250 MPa.
Applications of ASTM A36 Steel
A36 steel is frequently used as a structural steel due to its generally high strength, formability, and ease of welding. Buildings, bridges, and other substantial constructions all use it.
A36 steel takes multiple shapes and forms such as sheets, rectangular bars, circular bars, beams and angled cross-sections.
It is perfect for machining, grinding, tapping, drilling, and punching. Galvanizing A36 is frequently done to stop corrosion.
A36 steel is also extensively used in the automobile, aerospace, oil and gas, and heavy machinery manufacturing industries.
Equivalent Materials to ASTM A36
ASTM A36 has the same properties as EN S275 steel.
Reference: Standard Specification for Carbon Structural Steel
ASTM C127 Obtain Specific Gravity and Absorption of Coarse Aggregate