Concrete is one of the most durable materials for construction in the modern history. Yet, it might be exposed to some conditions that negatively affect its performance due to distress. Concrete quality might get compromised either during the production stage or during service. 
In this article, we are going to discuss concrete honeycombing, one of the most popular surface defects for concrete that reduces the aesthetics and durability of an element.
What is Concrete Honeycombing?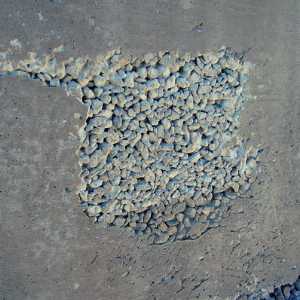 Honeycombs refer to areas of concrete where the cement paste fails to fill the voids around the coarse aggregate and/or steel RFT. The intensity of honeycombs can vary from one or two incidents to the whole surface being affected.
Honeycombs in normal concrete are usually visible once shuttering is removed. However, honeycombs inside the mass of concrete can be identified by techniques like Ultrasonic Testing. Although honeycombs are found in footings, walls, columns, beams, slabs etc., they are more frequent in thin sections and members with high RFT ratio.
Major Causes for Honeycombing
1. Poor Workability of Concrete
Concrete with low workability is not cohesive and consistent, and thus, will result in either segregated concrete or concrete with honeycombs i.e. voids, resulting in leakage and low strength. Therefore, it requires a lot of effort in handling, placing and compaction, in particular.
Formworks with loose joints or not leak-proof cause leaking of the cement paste leaving the aggregate and RFT not surrounded by the paste.
3. Improper Compaction
Concrete is compacted to allow the removal of air from  the fresh concrete. Compaction is usually achieved using hand or vibrators. Under vibrated concrete causes the creation of honeycombs without it. 
Placing steel RFT at a very close spacing will cause entrapment of the larger pieces aggregates and hinders concrete flow and vibration, resulting in honeycombing.
Segregation is the separation of the ingredients of fresh concrete. It will lead to  honeycombs in concrete.
Effects of Honeycombing
Honeycombs act as a pathway for the ingress of air and moisture. In a reinforced concrete element, this will cause

corrosion

of steel that will lead to the loss of the element's load-bearing capacity.

Similarly, carbon dioxide will easily diffuse through concrete causing its carbonation. 

The voids present in concrete cause the reduction of compressive strength.
How to minimize Honeycombing
Use well-graded aggregate and avoid using a very large aggregate size.

Make sure that concrete mixture is designed to have suitable workability for the job.

Use a proper compaction method for concrete and avoid placing concrete from more than 1.00 m height.

Provide sufficient concrete cover and set RFT at a suitable spacing according to the followed code.

Ensure the formwork does not have any defects.
Read Also: CONCRETE REPAIR AND MAINTENANCE STEPS